Teosyal has taken hyaluronic acid fillers to a new level with the Redensity I and Redensity II products.
They have added vitamins, minerals and amino acids to the fillers in a combination that has been scientifically proven to stimulate your body to make new collagen in the injection areas. That means long-lasting rejuvenation: your skin will be smoother and tighter, lines will be softened and volume will be restored to thinning tissues.
I am particularly excited to use these products in those delicate areas that require a lot of care, like around the eyes, the tear troughs below the eyes and the lines around the mouth. I have even used Redensity in the lips themselves to create a softly plump lip and to boost hydration of the lips.
Redensity II is a little bit stiffer than Redensity I so it is used to fill wrinkles and restore volume. If people keep asking you why you look so tired, imagine getting rid of the dark hollows under your eyes and smoothing out your crows feet. You will look refreshed and rejuvenated.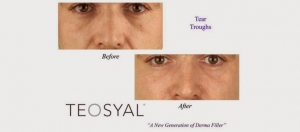 Redensity I is used to rejuvenate the skin itself and is injected into the outer layers of skin. Redensity I is an excellent product for rejuvenating the neck and the skin of the face. It changes dull, dry, thin, lax skin into firm, hydrated and radiant.
In 2014, both Redensity I and Redensity II won Anti-Aging and Beauty Trophies, Best Injectable Skin Revitalizer and Best Filler, respectively.