When I was growing up, my mother made it clear that Gifts for Mom such as a new vacuum cleaner, kitchen appliance or other household item were not going to go over well at Christmas or her birthday.
It would be safe to say that we all knew that instant death would follow any gift that was really for the house or the whole family rather than specifically for her.
But even with this knowledge, we didn't necessarily hit the mark with our gifts.
I remember well the year my sisters and I found stockings in fuchsia pink and bright sunshine yellow. We loved them! We happily purchased them, happily wrapped them and proudly presented them for our mother's pleasure.
Those packets of stockings sat unopened in her hose drawer for years until we were big enough to play dress-up with them.
And it's not just mothers who get dud gifts. I remember the year my sister got nothing but socks for Christmas. Knee highs. Ankle socks. Sports socks. That's it.
It is because I have been through all of this with my mother and my sisters that I set up the Wish List program at Advanced Rejuvenation.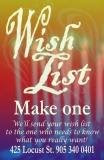 You come in and fill in a Wish List — fill in as many as you like, in fact. We will mail, email or phone each Wish List to the person you designate.
You can ask your parents for a Medical Facial, ask your sister for Hair Removal (she'll understand) and your husband Skincare. Or whatever treatments and products you want.
If you feel like your loved ones don't know know what to give you for a gift, this is the perfect solution for you.
You know that they are going to spend the money and get you something so why not gently direct them towards something you would really like to have?
And if they've already bought a vacuum cleaner, there's still time to take it back 😉