I wanted to share with you some of the results that I am getting with Lipodissolve treatments. The woman in these pictures exercises regularly, watches her diet but still had a layer of fat on her abdomen and bulging muffin tops.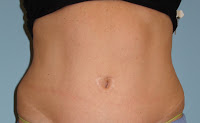 BEFORE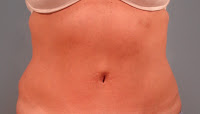 AFTER 2 treatments — one on the muffin tops and one on the abdomen (above and below the belly button). She has been able to go down a size (or 2, depending on the cut) in pants.
The before picture was taken with flash, the after without, which is why the camera has interpreted the colour so differently. Apart from cropping, the photos have not been retouched.