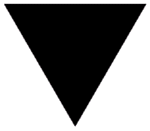 A lot of my bikini hair removal clients are still asking for a brazilian, meaning everything off.
That's why I was interested to read on this Irish blog that more and more European women are choosing a well-groomed triangle rather than baring all.
The latest stats for Harley Medical's Dublin clinic reveal that eight out of ten gals getting laser hair removal for their bikini line now prefer a little more coverage – a classic V-shape, to be precise. And why is it called the Sicilian? Well, that'd be to do with the fact that its shaped like the home of the Mafia, fact fans.
I saw the same trend on La Mom, the blog of an American woman in Paris.
Both articles are pretty cute and the comments are hilarious.
It will be interesting to see if North American women continue to prefer the brazilian or make the switch to the "classic T."