I was looking at the list of topics that I have written about and I couldn't believe that I hadn't devoted an article to the Pixel laser treatment.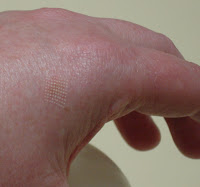 This is one shot of light from the Pixel. See the square on the hand made up of tiny white dots? Older lasers were unfractionated, meaning that laser would have burned a solid square on the skin. The Pixel is fractionated so the laser light is only coming through in tiny dots.
Each tiny dot is a little burn in the skin. Each little burn is a powerful stimulus to the skin to activate healing mechanisms, resulting in new skin cell formation and collagen formation. Because each burn is so tiny, the healing time is much quicker than the old lasers.
The new collagen makes the skin appear tighter, with less pigment. Fine lines are smoothed out. Deep lines are softened. Pores are tightened and the skin is smoother.
The new skin cells give the skin a dewy look and make the skin radiant. Radiance is one of those terms that I was uncomfortable with at first — how do you define it for skin? — but it really is the best term for how you look after a Pixel.
Here are a couple of pictures that will give you an idea of what results you can expect with the Pixel:
BEFORE The texture of the skin looks rough with enlarged pores. Fine lines are seen under the eyes.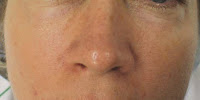 AFTER The skin looks smoother and dewy — we're seeing a new radiance in the skin. The lines under the eyes are much softer. The pores are visibly tightened.
Pixel laser combines the benefits of the older generation lasers, that is new skin cell formation, collagen production and refinement of the skin, but reduces the side effects and the healing time.