I had to share this with everyone. My friend came to me to get some Teosyal KISS injected into her lips and kindly agreed to let me show you her before and after pictures.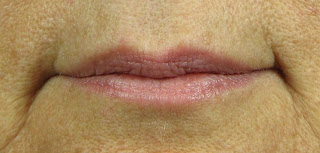 BEFORE The wrinkling in the lips indicates a pronounced loss of volume. The contours of the lips are pretty flat with no definition delineating the lips from the skin outside of the lips.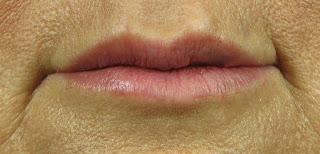 AFTER This is only 3 days after the injection. I warn everyone that their lips may be swollen for 2 weeks after the injections and that they will have bruising that could last around a week. The bruising here is very minimal and easily covered with lipstick. There is still some swelling present but to a stranger I don't think it would be very noticeable. Subjectively, the first time you have your lips injected, you feel like your lips are 10X their original size with a big neon sign saying "Look at these lips!" but objectively the swelling isn't too bad.
This is a great treatment with immediate results that make you feel prettier and more youthful. The first time is the worst — you don't know what to expect and you feel very self-conscious — but as you can see, the swelling and bruising isn't too bad. Subsequent injections are usually even better with less swelling and bruising.
Wouldn't you like to have a plump, pretty mouth for spring?