This is a very personal story for me. It's about my sister Nicola who is 5 years older than me. We both agreed that we would share her story in order to help others.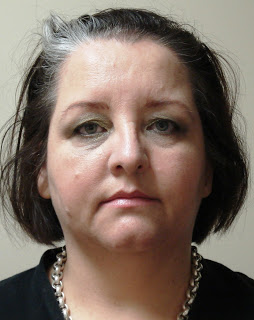 A few years ago, her life seemed to be on a downward spiral. She'd reached the point where she felt she had lost her looks — makeup didn't seem to be working any more — her face was perpetually sad, even when she was trying to smile — and she was overweight and suffering a lot in her health.
This Before picture was taken in October 2007 after she had started having a few treatments here (she didn't allow herself to be photographed before that) but you can still see the bleakness she was feeling. She didn't make much effort with her appearance because she thought it was futile.
From a cosmetic perspective, I see volume loss in the lips, and sagging of existing volume so her eyelids are heavy and her cheeks are most prominent down at the level of her mouth. You may not see it well in this picture but she has a very uneven skin tone with dark pigment around her eyes and mouth and on her neck.
In the past 2 years, Nicola has undergone a few treatments — generally when we needed someone to practice on as various staff were trained. She might get something done every 4 months or so — I don't want you to think that she was getting botox and pixel laser treatments every week or even every month.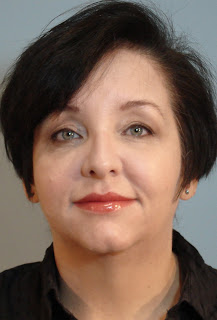 Now take a look at Nicola today. You'll immediately notice that her hair style is more flattering and that she has lost weight. I would argue that she made more effort with her hair and she had success with losing weight because she was feeling better about herself.
If we look in detail at her face, you can see a huge improvement in her eyelids. See how crepey the lids were in the Before shot? Her left eyelid was touching her eyelashes. Today she has contoured lids with lots of lid show. We tightened the skin of her lids by doing some Pixel laser and lifted the brows with Botox.
Look at her cheeks. See how the fullness has been lifted from where it was, down at the level of her mouth, up to the apples of her cheeks? The whole shape of her face is changed with an overall appearance of uplift, improving the jowls and jawline. Nicola had a SoftLift in August with Juvederm placed in her cheeks and in the marionette lines extending down from the corners of her mouth.
Of course, Nicola mouth looks bigger. Part of her SoftLift included augmenting her lips with Juvederm. Nicola and I both have thin upper lips that tend to disappear when we smile so we both like the way the lips augmentation prevents that.
The other thing we noticed is that the scar on Nicola's nose across the bridge has improved. This wasn't something that we actively treated. Nicola always looked on the scar as a symbol of surviving a near-fatal accident so she never asked to have it erased. However you can see how much it has smoothed out in the course of using medical grade skincare from Vivier and having Pixel laser treatments.
Another point to make about these 2 photos: Nicola was trying to make the same facial expression in both — her pleasant expression. In the bad old days, every line in her face was downturned — brows, outer corners of eyes, corners of mouth — so her pleasant expression looked angry and sad. Now that those downturned lines are gone, she looks alert and positive even without a smile on her face.
These pictures show that you can get your face back without surgery, without having a surgical facelift. Nicola had a combination of non-surgical treatments including excellent skincare products, Pixel laser, IPL photofacial, injection lipolysis, Juvederm and Botox.
It took time for Nicola to achieve this level of improvement. However when you have gotten to the point that you think that the rest of your life is a downward spiral, how wonderful to see yourself improving month by month, instead of declining.
And this brings me to my final point: looking better makes you feel better about yourself. When you start seeing some improvement in yourself, you're more energized to do other things that will make positive changes in your life.
The path back to feeling positive and confident will be different for different people. If you're having trouble finding your path, start with your appearance.