Now that cooler temperatures have arrived and the sun has slipped behind clouds, our tans are fading. Our winter skin is showing all of the after-effects of the sun-brightened skin that we enjoyed in the summer.
When you look in the mirror, you're probably not seeing a smooth bright even-toned complexion.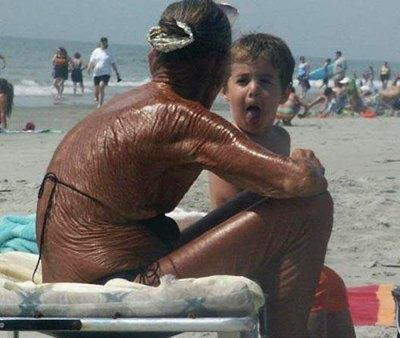 You're probably seeing brown spots — sun spots — known by the medical term solar lentigos. Sun spots foreshadow worse damage to come in the future. And they contribute to aging your appearance now.
You may be seeing redness, ranging from a diffuse flush to patches of broken capillaries.
The surface texture of your skin is likely to be roughened. My skin used to be so rough from sun damage that I gave up on wearing makeup because it looked mealy on my skin. I needed foundation to even out my blotchy skintone but I couldn't get it to go on properly.
And of course, we can thank the sun for many of the wrinkles and lines on our face — both from squinting against the sun and also from damage to the collagen and elastin in our skin leading to the network of fine lines that we see as we age.
When someone comes to see me about sun damage, my recommendations depend on the individual's age, goals and budget, as well as the company that the sun damage is keeping.
So the basic treatment that addresses specifically the brown sun spots is the Intense Pulsed Light treatment (IPL), also known as the photofacial. By strict definitions, this is not a laser although many people refer to it as such.
In the upcoming series of articles, I will address sun damage and the factors that influence my recommendations for treatment. Depending on the situation, I might recommend skincare alone, chemical peels, or fractionated laser or any combination of these treatments, with or without IPL.
There's method in my madness and I'm trying to tailor the treatment to best suit the individual.