Advanced Rejuvenation Medical Spa is doing a study. It starts within the week. We plan to assess Refining Cellulite Body Lotion, a new product for cellulite from Vivier.
The key ingredients in Refining Cellulite Body Lotion include Synephrine from bitter orange, Caffeine and Glaucine, a plant extract.
These 3 compounds attack different stages of fat metabolism.
Synephrine activates the breakdown of the fats stored in the fat cells;
Caffeine blocks an enzyme that inhibits fat breakdown;
Glaucine stimulates fat breakdown and blocks the formation of new fat cells.
This is an excellent option for any of you who plan to get one of our Accent Memberships. The study is open to all clients who have not started doing Accent on a body part already. The study will last 6 weeks with one follow up appointment at 12 weeks.
In the study you will receive the product to test on half of the area you get treated by Accent. The other side or half you will not treat with the lotion. You will have to treat the same area for the entire six weeks of the study. We will take photographs at the start and at the 6- and 12-week mark.
We expect to see the side treated with lotion will show more rapid results of smoothing and tightening than the side treated with Accent Radiofrequency alone.
Here is what Accent alone can do for cellulite in 5 treatments: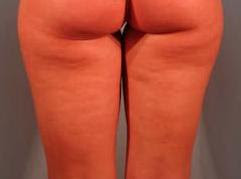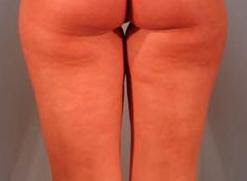 You can see that the cellulite is improved but not completely gone.
As many of you know, I am a big fan of Vivier's products for their quality, effectiveness, science and bottom-of-the-bottle guarantee. I expect the Refining Cellulite Body Lotion to perform as well as all of the other Vivier products so I am undertaking this study now to document how well the product works. Just in time for swimsuit season!
This study will be limited to five participants. Preference will be given to participants who can start immediately.
If you wish to be one of our study participants please call 905-340-0401 or email us at info AT RestoringNaturalBeauty DOT com . When we have enough study participants, the study will be closed to further applicants.
If the thought of walking on the beach in a swimsuit doesn't fill you with anticipation, give us a call to find out if being a part of this study is right for you.